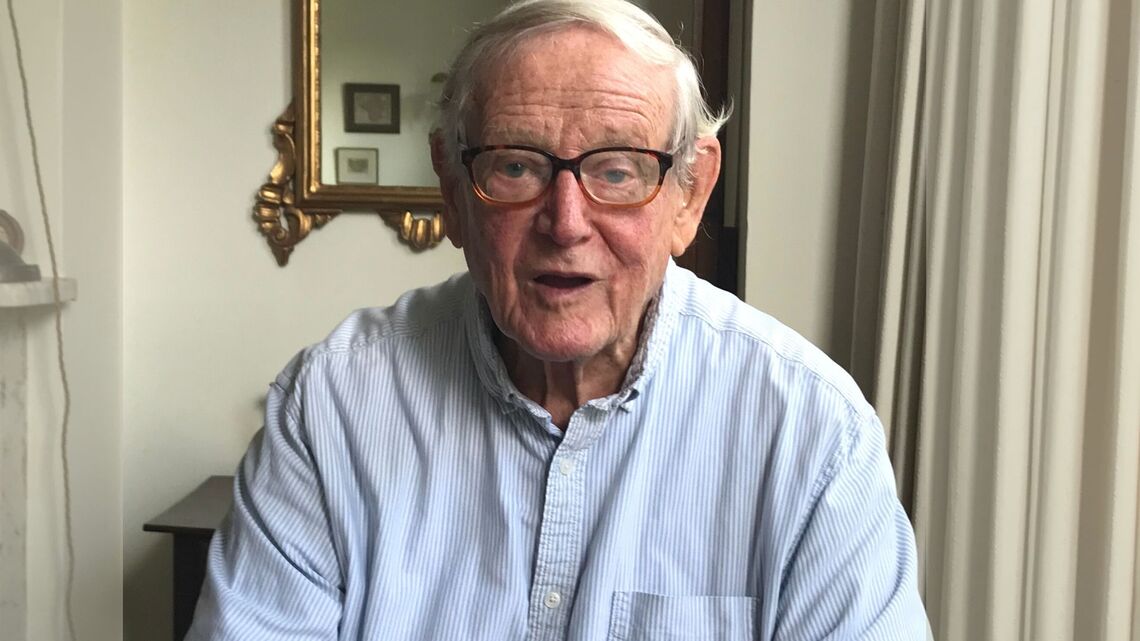 At KNA we love to celebrate a milestone birthday. Rea Granleese, one of KNA's most prolific former volunteers, and a generous funder to the charity, turned 90 this summer. We were delighted to catch up with in his home in Kew.
Rea started volunteering with KNA, "when I was what some clients described as a helpful young man, heading towards retirement." A retirement that has just been finalised as we meet some thirty years later, having signed his last contract last December.
None the less, Rea has devoted many hours to supporting KNA, in the office; in client gardens, as a trustee; a volunteer driver and, notably roving the streets of Kew to garner the support of local businesses for financial donations and raffle prizes. He was rewarded by receiving a community award for volunteering along the way.
In his first week in the office Rea noticed the shabby carpet and popped over the road to Abacus Carpets, by the weekend a new carpet was being fitted, free of charge. The carpet is still going strong today. The first example of how willing people in Kew were to support a local charity.
To ensure the client summer party was a treat for all Rea made sure that enough raffle prizes were secured for every guest to leave with a prize to be pleased with. "The local restaurants and shops all contributed" Rea says. "You don't get if you don't ask. A lot of people are willing to give." Rea's natural charm undoubtedly helped him to gain support.
Born in Ireland, in a family of five boys, Rea worked in France before moving to Kew in 1962. He has been in his current home for more than 50 years, his children all commencing their education at Broomfield House School. It is clear how proud of his children and grandchildren. Rea happily recounts their universities and careers and how the family rallied round to ensure he and Rene were ok during the recent covid lockdowns. The family will be reuniting to celebrate his birthday, but he can tell me no more about the surprises planned for him by wife Rene.
Rea is recovering from a recent successful spinal operation which has clearly given him a new lease of life "it is a joy to be out of pain!" I ask him about his secrets to longevity and he tells me that keeping the mind working is key. During the lockdowns, which he spent at the family property in Devon, save for medical appointments, he was in weekly competition with his wife over card games, snooker and scrabble. Being active is also a must do, with four acres to look after, including two substantial vegetable patches being a partner in a chicken business, he has plenty to keep him physically active. Rea admits that he can't bear to pay for jobs he can do himself. "If you accept being old you are going to be old," he muses.
"My award for volunteering takes prominence over any I ever got for Rugby or rowing" Rea says, "and I feel I owe Kew Neighbourhood Association a lot."
"It taught me about people and people's different attitudes. I missed out on this sense of place during my working life when I was traveling and living out of hotel rooms when my family was growing up. I am extraordinarily lucky living in Kew and enjoying what Kew offers, it is important to give back."